Click on images below for a larger version.
---
Museum Board of Directors (then) President Bruce Schooler opens the proceedings and describes Museum accomplishments.
---
---
Officers on the Board of Directors each provide an update on Museum activities for the year.
---
---
Board of Directors Vice President (now President) Jim DePauw donates a historic item to the Museum.
---
This flag belonged to General Robert D. Russ when he held the rank of Lieutenant General. General Russ retired as a four star general, and his connection to Webb AFB is that he graduated from Undergraduate Pilot Training here. A display case dedicated to his service career, is now installed in the museum. View General Russ's bio and the display case here.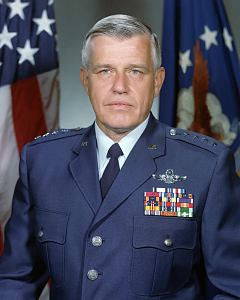 ---
The Annual Membership Meeting is a chance for members to meet the Directors and Staff, and share their views.
---
---
Board of Directors President Bruce Schooler presents the President's Award for Outstanding Service for 2016, to Jim DePauw.
---
---
New directors, Camilla Strande and Joel Miller are welcomed by incumbent directors Guy Griffith and Jerry Worthy.
---
---