---
You may click the images below for a larger version.
All images below are courtesy of: Megan Stoval, of "MADMEG Photography"
---
The Hotel Settles Ballroom is the perfect venue for a formal event.
The 2016 Silver Wings Ball entertained 190 guests.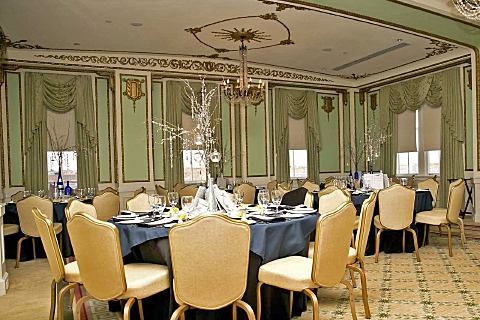 ---
---
In keeping with the tradition of Air Force colors, blue and silver are chosen for the Silver Wings Ball decorations each year.

---
---
Along with the decorations, each table was furnished with three Auction Catalogs, and at each place setting, a Program of Events.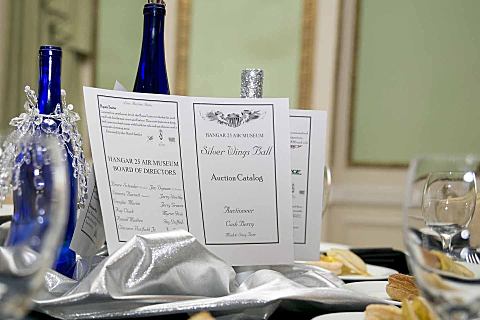 ---
---
The Ballroom accommodates 20 tables, seating up to 200 guests.

---
---
Hangar 25 Air Museum, Board of Directors President Bruce Schooler introduces Museum Board Members and welcomes guests.

---
---
Howard College Assistant Professor of Agriculture, Cash Berry, was our auctioneer for the evening.

---
---
Our auctioneer musters enthusiasm at the start of the evening's auction.

---
---
Bidding on one very desirable item of jewelry becomes intense.

---
---
Auction "Ringman" Stacy Barr works to increase a bid.

---
---
Cash's wife is caught up in the frenzy of bidding.
Looking on is an understanding Mark Barr.

---
---
Music throughout the evening, was provided by: The South Plains Jazz Band.

---
The band members are: Don Turner, clarinet/saxophone; Grady Alberts, trumpet; Bob Johnson, trombone; Al Gardner, drums; Dustin Pedigo, bass; Ashley Pedigo, vocalist and Jon Johnson, piano.

---
This "Silent Auction" table was one of four, displaying a wide variety of donated items.

---
---